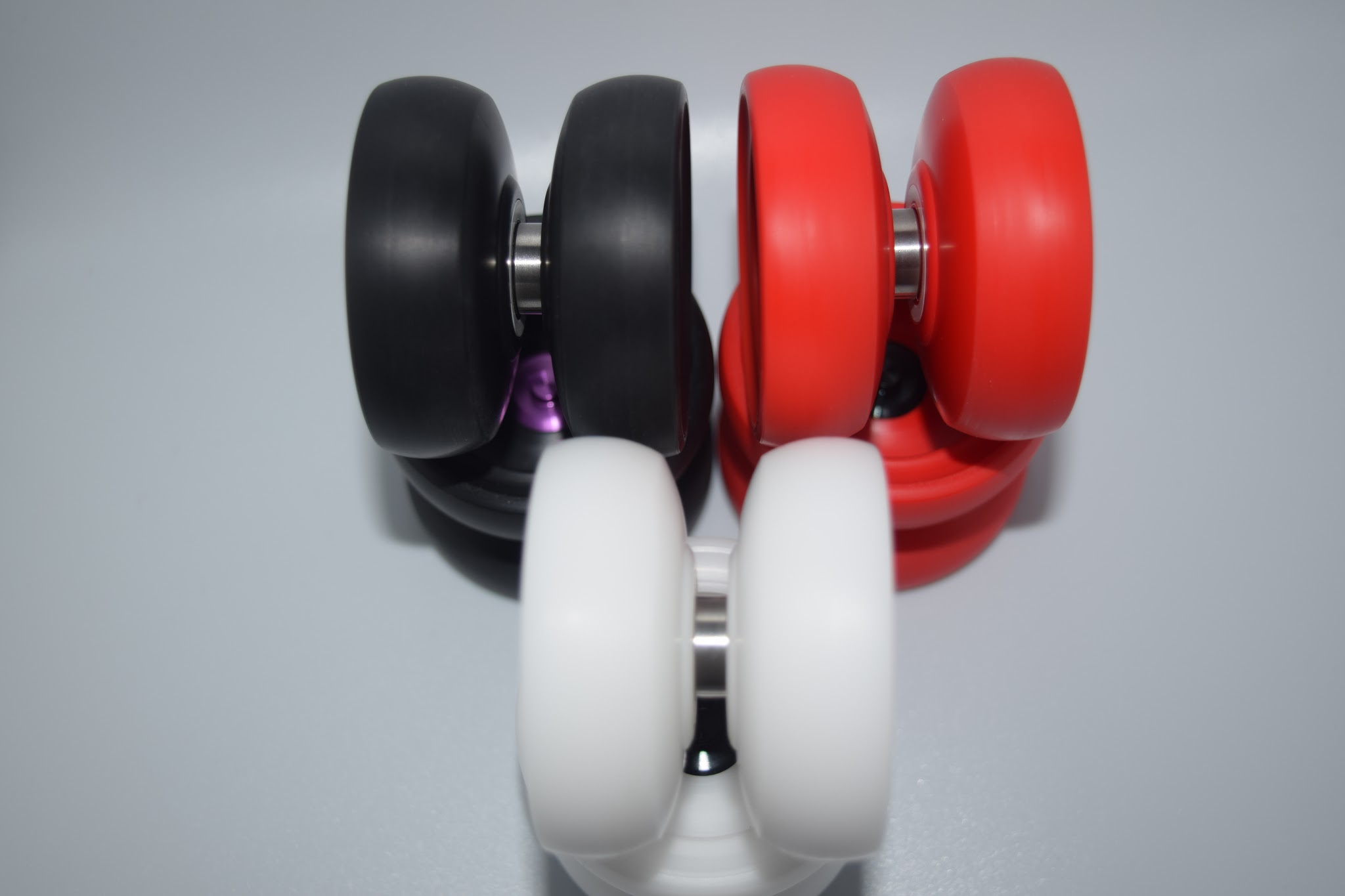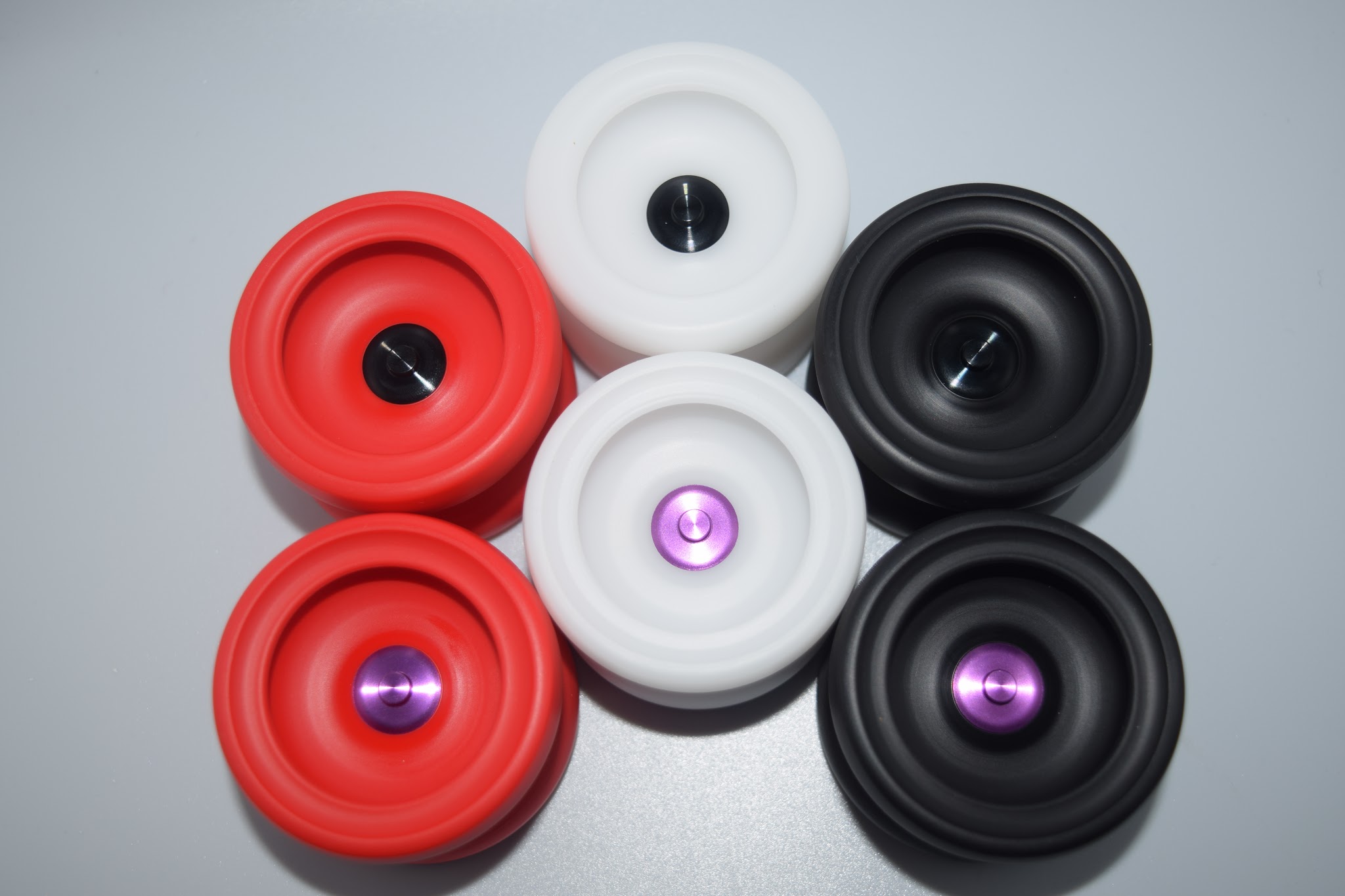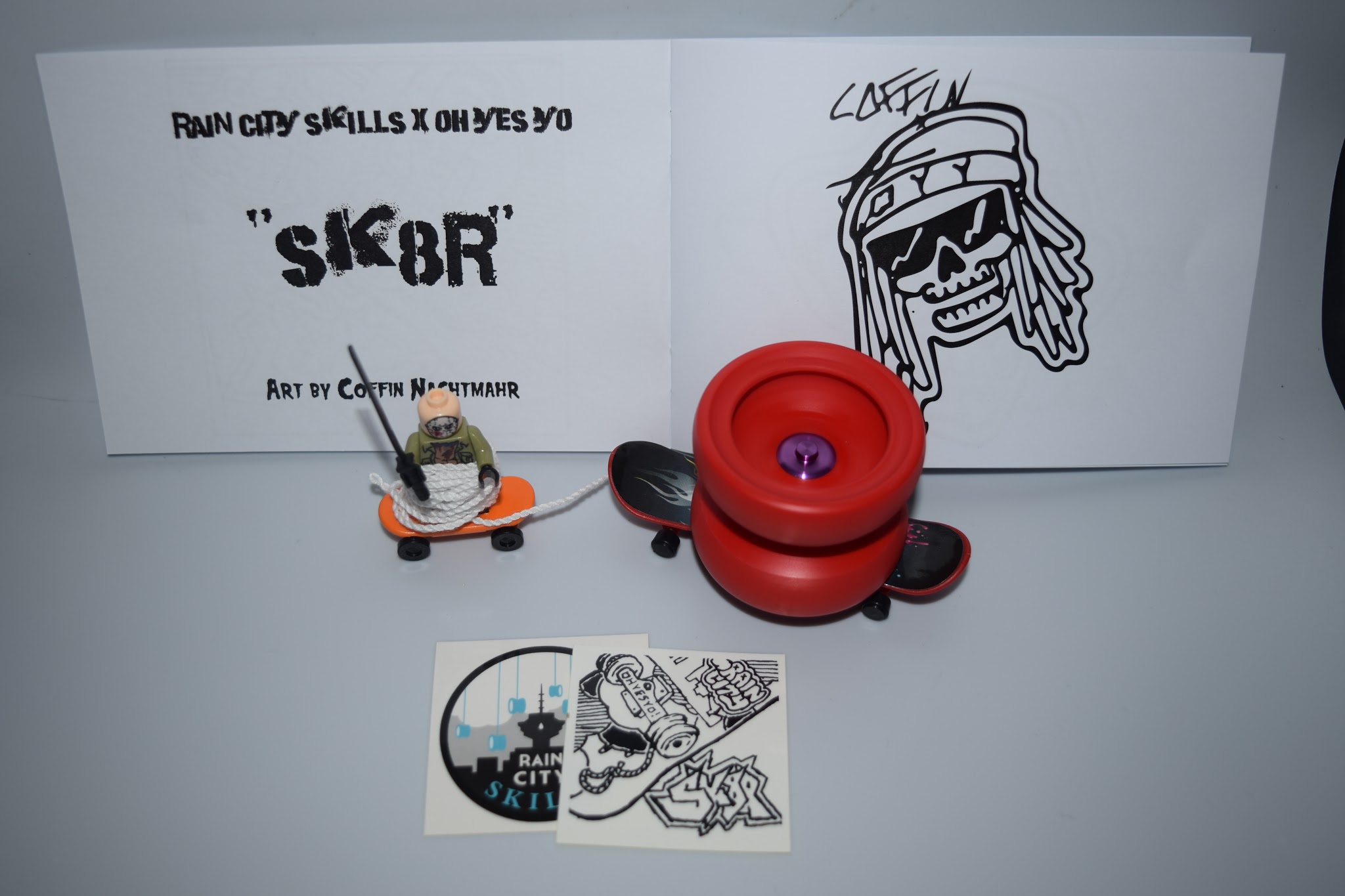 The Sk8r will be available at yoyoexpert.com, yoyosam.com and returntopshop.com for $64.99. I'll also be selling extra colouring books at Returntopshop for a limited time, just in case you wanted one to keep as a collectable. Or give to a friend. Or if you wanted to colour a 2nd one yourself ;)
The Sk8r comes in red, white or black with either purple or black hubs.

Specs:
Diameter 52.95mm
Width 42.2mm
Gap 4.2mm
Weight 62.4g
Bearing Size C Flat
Material Delrin
The Story
Rain City Skills x Oh Yes Yo
When I approached Coffin Nachtmahr Of Oh Yes Yo with the idea to do a collaboration called the skater, he was 100% on board right away. His first suggestion was that the name needed to be spelled Sk8r. From there, designing the yoyo to look like a skateboard wheel was a given. Justin Scott Larson went to work taking Coffin and My ideas and giving them shape. The design he came up with was nearly perfect, as always! What wasn't a given was finding the right machine shop. This is the most prototyped yoyo I've ever made. We started this process in the beginning of 2018.

We started with one shop that I'd worked with before for begleri. We sent them 2 variations, one 59g, one 63g. They did a good job of the body, but were unable to make the hardware properly (the hub wasn't snug against the body, so it tended to slip instead of screwing together tightly). It did give us the opportunity to bring the prototypes to PNWR in Seattle where we learned that the yoyo community was of no help making decisions. We had 2 weights options and we left the contest with pretty much a 50-50 split between people that liked one or the other!
Onto a 2nd machine shop. This time I used the same shop that made the Rain City Skills 'Showgirl'. Again, we tested 2 variations to make sure the hub design would work. This time they nailed it, fantastic! Except in the time between ordering the prototypes and actually getting them the shop seems to have run into some trouble. As soon as I got the prototypes my contact stopped responding.
Finally we ended up at Yoyoempire. I really should have started with them, they have made more Delrin yoyos than just about any other brand on the market and have the experience needed to get it right. So a 5th prototype was made to make sure they had the design right and bam, ready to go!
In the interim between the various prototypes I was busy crafting the unboxing experience. This is where Coffin had his chance to shine. He is a professional artist. He makes his living with his art and yoyo sales. He drew up the sticker logo, blending the 2 brands and the skateboard concept. I hunted and found lego skateboards and paired them with an assortment of mostly horror or science fiction villain themed Minifigures. There are about 50 varieties spread amongst the 150 Sk8rs made. Jack from "Nightmare Before Xmas" makes an appearance, the Scream guy, Donald Trump, various mad scientists, there may even be a Sith or two in there.
The idea for the big 'enxtra' came at USA nationals in 2018. Coffin was drawing up label cards for the Boutique Yoyo Collective table and we came up with the idea to include a yoyo colouring book! I sent him home with a list of yoyo words (bind, whip, slack, etc) to outline in graffiti format. So each Sk8r comes with a collectable colouring book that even has a drawing of a Coffin and I!
The finishing touch was packaging. Coffin sent me a photo of skateboard wheels shrink-wrapped and pointed out that this was do-able at home. I popped onto amazon, got some shrink wrap and tested it. You can do it at home with a hair dryer, but it's not super effective. So next stop was the hardware store for a heat sealer and heat gun. I then spent most of the Canadian Thanksgiving long weekend splitting my time between packing to move and shrink wrapping yoyos. As you can see in the images below, I added in a basic fingerboard that makes a perfect display stand!
All in all this has been a really fun project. At some point I'm sure I'll run out of ideas for interesting themes and accessories, but I'm really digging the creativity that goes with it. I'm looking forward to my next collaboration and where 2019 takes Rain City!
Just for fun, The Sk8r drops on October 24th, my birthday! So if you needed any more incentive to grab one, think of it as my birthday present!